Destinations
Let us help you find hidden gems of Croatia
The Adriatic coast has recently become very popular. As long as you are not allergic to turquoise, you will soon understand why. The aquarium-like water in contrast to the white limestone cliffs is such an exquisite combo that the postcards barely manage to justify its charisma. The ultimate way to bring in Dubrovnik, its surroundings and the sparkling water with the kayak paddle on the top. And with good conscience, after active days, we can jointly enjoy the fresh food experiences that neither swam nor bounced long before they reach the countless restaurants and delicacies…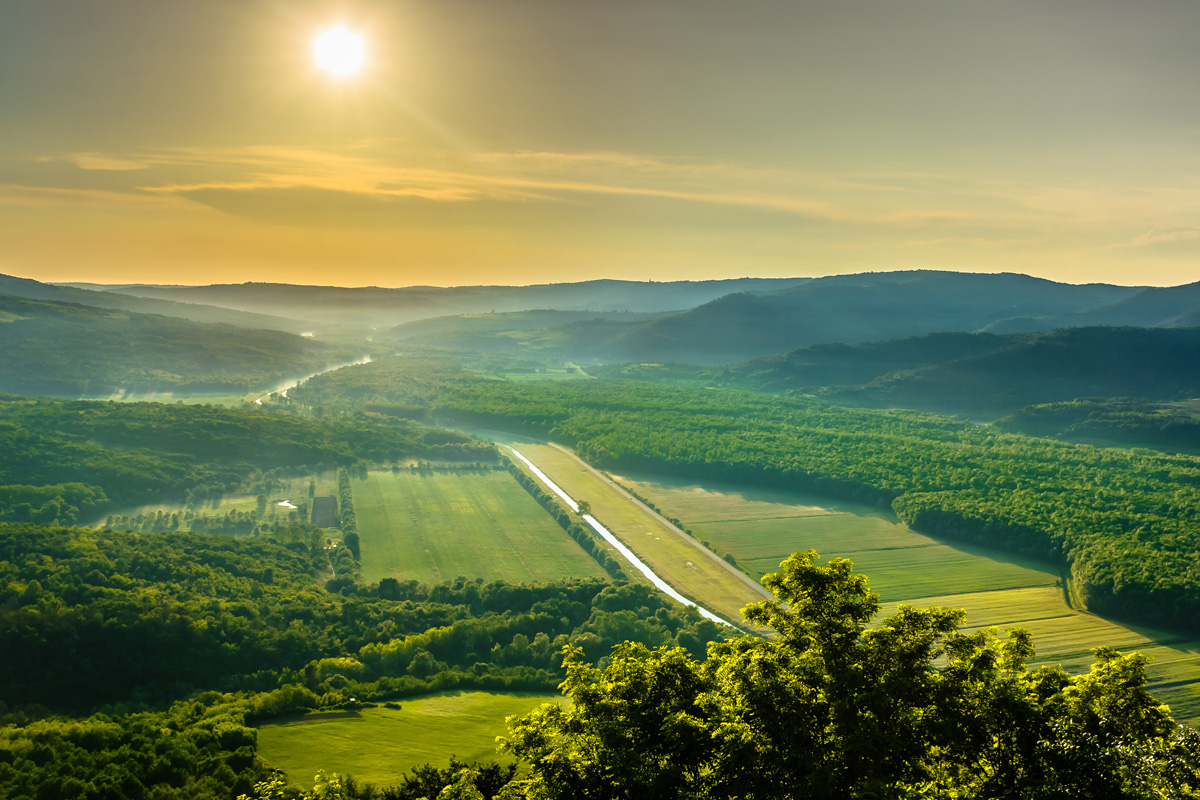 Istria
What to see and do in Istria? Where to go? Answers to these questions are numerous and it can be very difficult to find the right one!
The largest Adriatic peninsula, Istria, is now for a long time much more than plain sun and sea. Richness of natural diversity with green fields and valleys, azure bays and islands, high vineyards and olive groves extends before you whatever way you turn around. A plentiful history has woven its traces in each particle of the peninsula, and numerous archaeological sites stand as a witness that transfers you to some past times. Among them is Nezakcij, the capital and last place of residence of a whole Istrian nation. Led by king Epulon at the end of the war with Romans, Histri preferred to take their own lives away rather than surrender. Many more legends encompass Istria and its history, and various tourist attractions nowadays include some of the stories into interesting experiences.
If we should list the top things to do in Istria, it would be a very, very long list. However, read further as we will name our favorite places to visit once in Istria:
With its Roman colosseum, Istria's biggest city will surely take your breath away. During summer, there are many activities in Pula you can take part in, and Roman nights where you get to experience gladiator fights and sword clashes are just one of them.
Rovinj, also known as the Istrian pearl, offers many beautiful colorful sights for endless walks by the sea. Accompanied by delicious food and olive oil, you are bound to create a lifelong memory.
Little hilltop towns are what makes the peninsula so charming. Motovun, Grožnjan, Bale, Oprtalj and Svetvinčenat are just some of the picturesque towns this region hosts, and if you are wondering where to go in Istria, make sure to visit at least one of them.
Istria is also very interesting due to its division on Red (terra rossa lands), Grey (fertile inner lands) and White Istria (land around the mountain peaks). This too reflects in the flora on which we stumble upon during our journey along the local roads. The peninsula has an extensive tangible and intangible cultural heritage, and we will make sure to plan your trip in a way that includes the best of Istria. Besides by the color of the land, we divide the region on Blue and Green Istria. The Blue, known for its crystal azure sea and sunny beaches and the Green, including traditional villages with rich gastronomy.
TIP: Apart from the coast, Green Istria situated inland also deserves your attention. There is a countless number of small authentic villages with beautiful intimate taverns where you will certainly feel as a local. You will get to taste domestic wine and fresh prepared food, as has been prepared for centuries.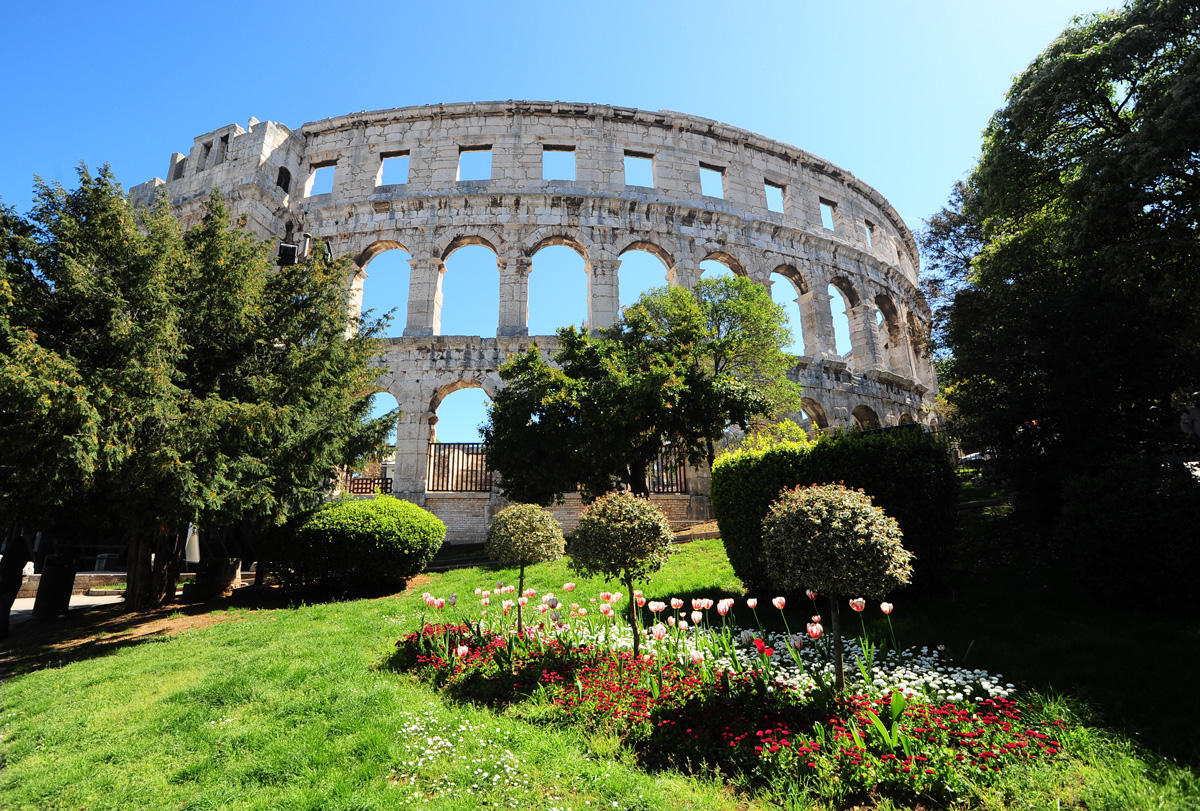 Pula
Did you know that one of the 6 biggest Roman colosseums in the world can be found in Pula? And it's also one of the best preserved! If you're wondering what to do in Pula, make sure to add the colosseum (or Arena, as called by the locals) to your travel list.
Situated on the south Istrian riviera, Pula is for many the main reason for visiting the county. A pleasant climate, crystal clear sea, fine gastronomy and intact nature make it the perfect choice for your holiday.
During the Roman times, sounds of crossed gladiator swords resounded around the amphitheater and often hinted death, while the town's greatest prosperity era lasted during the Austro Hungarian Monarchy. Through those times, many members of the European aristocratic elite lived and acted in the navy's capital. Numerous luxurious villas were built and had beautified city landscapes, as well as the magnificent navy cemetery which today keeps memories of gone soldiers and past times.
With its rich cultural and historical heritage, Pula is very interesting to visitors of all ages, and in a rather small town you get to enjoy several tourist attractions: Arena – the most famous monument of roman architecture, the secessionist building of the city market offering an abundance of fresh local groceries, as well as the Lighting Giants of the local shipyard that give the sea view a magical romantic touch. Numerous beaches will provide you a haven from the city crowd and heat, and up to you is only to choose which one you will be heading to today.
Join us in sightseeing of this town and find out the most interesting points of interest in this more than 2000 years old town. Do not worry that you will get bored, as there are many fun things to do when in Pula.
TIP: If you're coming by car, we recommend to find a parking spot outside of the strict city center. An available spot will be easier to find, cheaper, and convenient since most of the city center stands is in a pedestrian zone.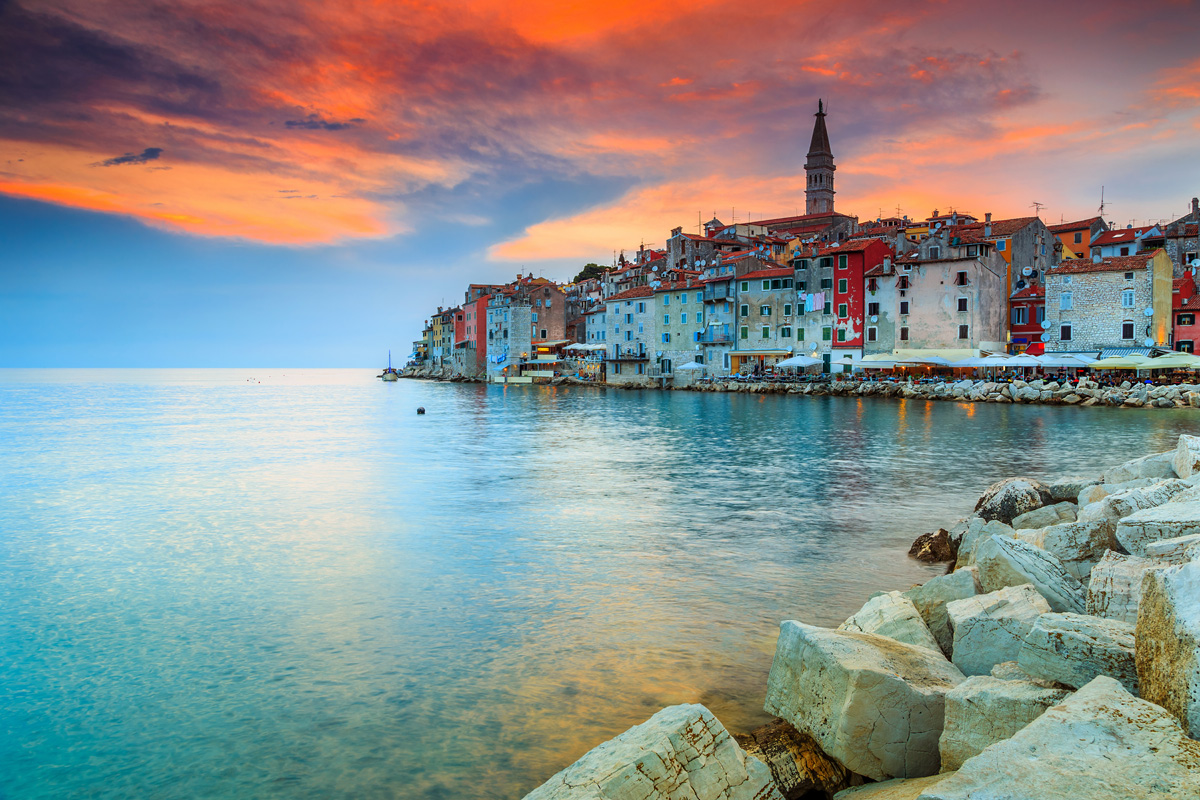 Rovinj
Among the essential places to visit in Istria, make sure to include Rovinj! This romantic town with a beautiful ancient center will mesmerize you with its atmosphere. The unique architecture will take you to some past times and make you fall in love with everything that these narrow alleys conceal. It's not without reason that Rovinj is called "Istrian pearl".
Postcards of picturesque Rovinj with its colorful houses and clear blue sea are among the prettiest in whole Croatia and one of the. The belfry of St. Euphemia's Church watches over the city and gives a unique, powerful touch to the whole scenery. Besides plentiful cultural heritage, Rovinj takes pride in pebble bays that stretch along 67 kilometers of coast, as well as in its archipelago with smaller 14 islands. The protected park forest Zlatni rt gives home to many autochthonous species of plants and it's one of the best things to do in Rovinj if you are in search of a break from the crowd. Rovinj really offers many interesting places to visit, including museums in which you can take a walk through history of the town and the famous batana, whose eco-museum was included in the UNESCO Register of Good Safeguarding Practices of Intangible Cultural Heritage.
Rovinj fishermen used to catch their fish in batanas until recently, and on evenings they would hang out with laborers in cellars, accompanied by fresh caught fish and a few glasses of tasty domestic wine.
Join us in sightseeing and discover why, after a longer hangout, it was sometimes hard to find the road home through the streets labyrinth of this vivid town.
TIP: Forget about heels! Stone paved streets are not the ideal place to walk in such shoes.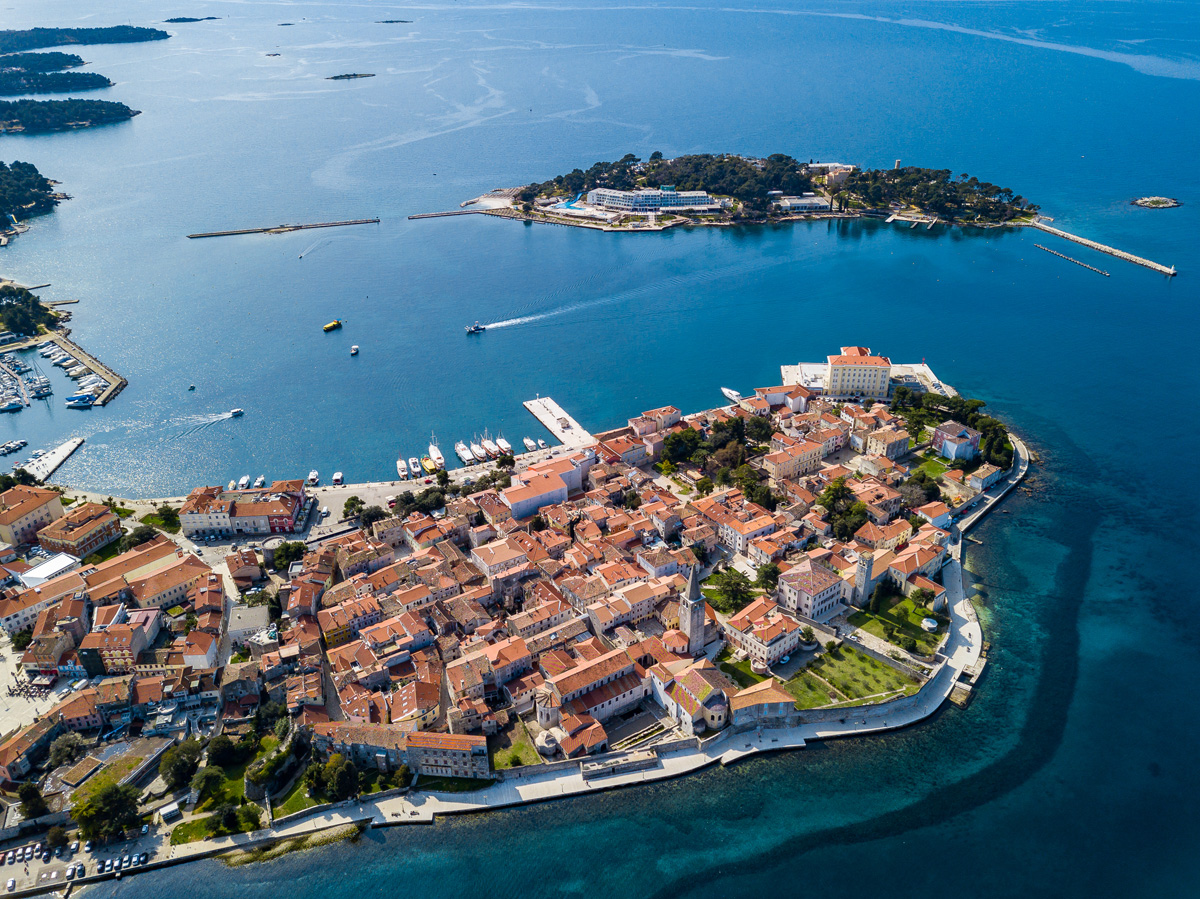 Poreč
Two millenniums old town invites you to discover its landmarks and one of the best preserved Byzantine monument in the Mediterranean!
Famous for its two towers – round and pentagonal, Poreč takes you to faraway, long forgotten worlds with its unique fusion of gothic, baroque, Romanesque and renaissance architecture. During the Giostra festival in summer its streets are filled with ladies in gorgeous dresses and gentlemen in formal costumes, while the town echoes sounds of baroque music and preparations for the traditional knight tournament. Giostra festival stands for one of the best things to do in Istria, so make sure not to miss it if you happen to be here at the time.
Through the 20th century, Poreč was known as the final station of the famous Parenzana, a railway connecting Trieste and this Istrian town over a number of stations. Every arrival of the train represented a major social event where it was important to be seen, so wealthier passengers often paid more to get a privileged place on the rear wagon. Today the rail route serves as a recreational trail and one of Istria's tourist attractions, so walkers or cyclists can pass through the imprinted paths of history.
The old town has been almost completely preserved in its original ancient form, and Euphrasian Basilica is the most important and most valuable cultural monument of Poreč, included on the UNESCO World Heritage List. Embark with us on a journey through rich history and beautiful nature in this coastal Istrian town.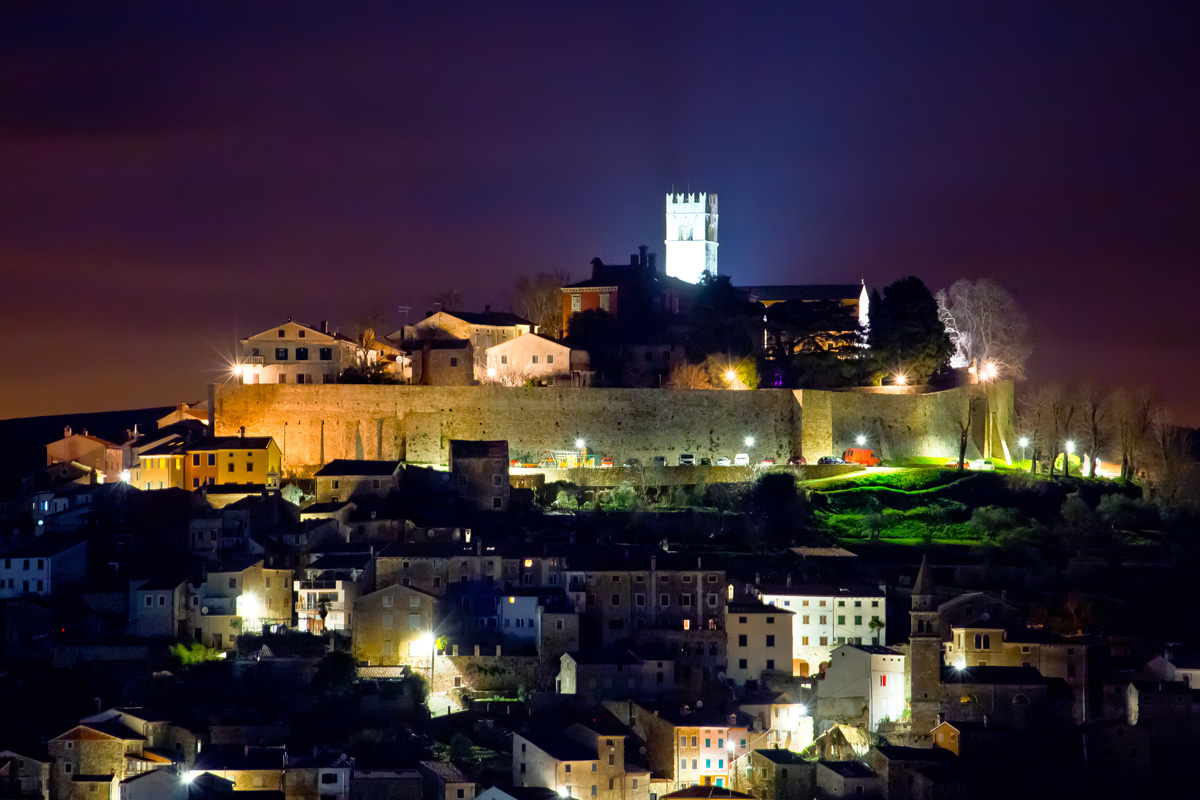 Motovun
The best preserved medieval fortress in Istria is situated on the top of a hill to which 1052 stairs need to be climbed. One of the best known towns in northern Istria,
Motovun
has maintained the medieval looks thanks to its walls, and it offers a breathtaking view of the fields and park forest. Nowadays the forest is the biggest unique world habitat of the
white truffle
, what gives gastronomy lovers an additional reason to visit the town.
Due to its small size, Motovun is a perfect choice for a daily excursion, no matter where in the region you are located. A truffle hunt accompanied by a delicious lunch and domestic wine is definitely one of the best things to do in Istria, and one of the memories you will cherish for a long time.
Keep your eyes wide open during strolls through the woods, since the legend says they are hiding a ragged giant strong as a bull – good Veli Jože. And who knows, you might as well find remnants of his hidden treasure!
Would you love to visit these wonderful destinations with a professional guide and find out more?